Description
Most popular use cases
Discover how thousands store owners use Uni CPO for their business.
Printing companies
Benefit from the possibility to set custom product dimensions and perform price calculation based on these values. Calculate order item weight and dimensions to calculate shipping cost. Automatically convert dimensions unit. Offer nice product preview with the Colorify feature.

Beauty salons
Offer a flexibility in SPA-procedures selection and an opportunity to configure discounts system based on the quantity. Add a possibility to make appointments by choosing dates in a date picker.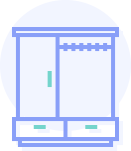 Furniture sellers
Add as many options you need for your products. Any type – required and optional, with images and without. Create custom options and configure their constraints and custom validation rules.

Shutter producers
Add extra product options like material type and colour. Use matrices – price tables – for the purpose of easy to configure and maintainable price calculations. Create nice previews with an image conditional logic functionality.